9

Nov, 2023
Fiesta Bowl: A Guide to Affordable Charter Bus Rentals Phoenix
With regards to experiencing college football at its best, the Fiesta Bowl is a must-go to occasion. This thrilling game, held every year in the Phoenix metropolitan area, exhibits top college football crews competing for triumph. To completely enjoy in the Fiesta Bowl, whether you love the teams or are only there for the atmosphere, you want a reliable and helpful method of transportation. Affordable charter bus rentals offer the ideal arrangement for you and your group! Enjoy the game and leave the driving to Divine Charter Bus Rentals in Phoenix!
Charter Bus Rentals: Your Game-Day Solution for the Fiesta Bowl!
Getting to and from the Fiesta Bowl can be a logistical challenge, especially if you're traveling with a group. The traffic, parking hassles, and the need for multiple vehicles can quickly turn your game-day experience into a headache. This is where affordable charter bus rentals come to the rescue. Divine Charter has competitive rates and will try to meet or beat the competitor quotes!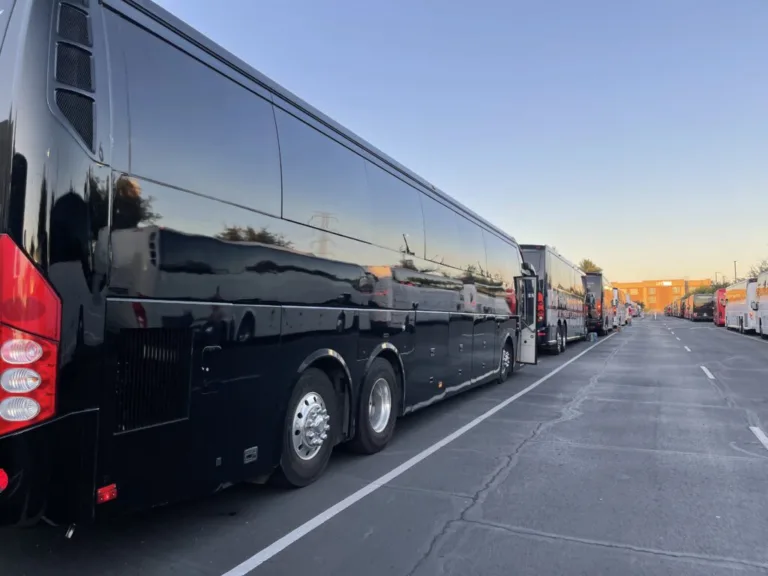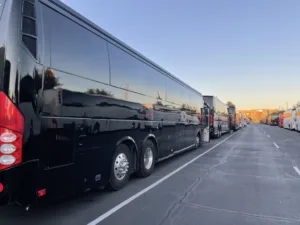 Shuttle Bus Rental: A Convenient Choice
For groups attending the Fiesta Bowl, a shuttle bus rental is a convenient and budget-friendly option. Divine Charter is reliable with comfortable seating and adequate leg room and storage for all your game day gear!
The Benefits of Charter Bus Rentals for the Fiesta Bowl
Charter bus rentals come with a multitude of advantages for your Fiesta Bowl adventure:
Cost Efficiency:
Sharing the cost of a charter bus among a group of passengers makes it an economical choice, often more affordable than individual transportation, and no parking fees!
Convenience:
Charter buses pick you up at a designated location, eliminating the need to navigate traffic, find parking, and walk long distances to the stadium. Door-to-Door transportation!
Comfort:
Charter bus rentals are equipped with comfortable seating, climate control, and often amenities like Wi-Fi and restrooms, ensuring a fun ride to and from the game!
Safety:
Experienced and professional drivers ensure your group's safety, allowing you to relax and focus on the game. Enjoy yourself and don't worry about driving. Leave that to the experts!
Environmental Impact:
Phoenix Charter Bus Rentals with Divine Charter is an eco-friendly option. Moving a large number of passengers in a single vehicle reduces carbon emissions.
Planning Your Fiesta Bowl Charter Bus Rental
To ensure a smooth Fiesta Bowl experience with a Phoenix charter bus, follow these planning tips:
1.
Book in Advance:
Fiesta Bowl is a popular event, and charter buses can fill up quickly. Book well in advance to secure your transportation. Contact our team at Divine Charter now to secure your bus rental to the Fiesta Bowl!
2.
Know Your Group Size:
Determine the size of your group to select the right type and size of charter bus, whether it's a full-sized coach or a mini shuttle bus.
3.
Pick-up and Drop-off Locations:
Decide on convenient pick-up and drop-off locations for your group, considering the proximity to your starting point and the stadium. We'll help figure it out. Call us now to start planning your Phoenix Bus Rental for the Fiesta Bowl! Call (602) 932-8850.
4.
Amenities:
Depending on what your group needs, select a charter bus with the amenities you want. Like entertainment systems and restrooms onboard!
Attending the Fiesta Bowl in Phoenix is a thrilling experience for football enthusiasts! With the right transportation, it becomes even more enjoyable. Affordable charter bus rentals Phoenix, including shuttle bus rentals, offers a convenient and cost-effective solution for your group. Eliminate the stress of parking and traffic in Phoenix. When you choose Divine Charter bus rentals for your Fiesta Bowl adventure, you can focus on the game-day excitement. Leave the driving to us!