Class Trips & Youth Groups
Take your students on an adventure with Divine Charter! Plenty of room for movement with our wide aisles, WiFi and charging ports near every seat, and a PA system so you can address your group, even the ones in the back. 
Our buses are a fun experience for kids, and we take their travel experience seriously. Although a restroom is available on the bus, we also take restroom stops on longer trips so the kids can get off the bus and stretch their legs.
We have a variety of charters, equipment and features for just about any group size. 
Parents will rest assured that we follow strict safety protocols and kids can be in regular contact with parents through their devices.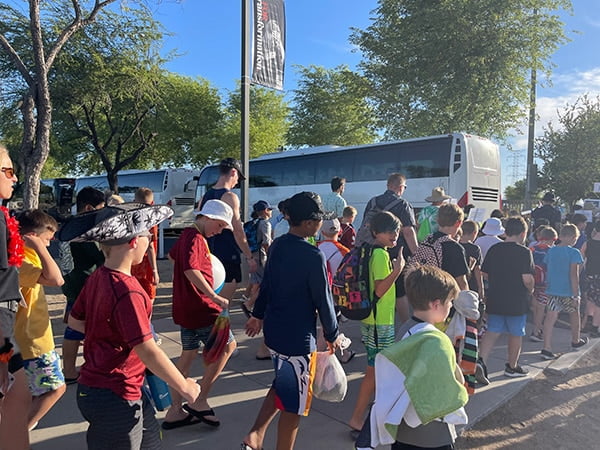 Divine Charter is a charter bus rental company operating across Arizona and Texas. We are locally owned and operated and our customer service is second to none!  We regularly drive groups located in these cities: Phoenix AZ, Flagstaff AZ, Sedona AZ, Tucson AZ, Payson AZ, Prescott AZ, Kingman AZ, Grand Canyon Arizona, and Yuma Arizona. 
Divine Charter is a full staff of professional drivers to take you to your next event! We work with all size groups for all sorts of reasons. Call us for a free quote to book your next athletic event, corporate event, music / entertainment tours, transport your convention groups, or safely move your students on a field trip or drive your team to your next away game. If you have any questions on how to get started with booking a charter bus near you – Give us a call (602) 549-9651