5

Nov, 2023
Phoenix Charter Bus Rentals for Las Noches de las Luminarias
Las Noches de las Luminarias, an enchanting holiday tradition in Phoenix! It is a celebration that draws visitors from near and far. With thousands of luminaries and twinkling lights illuminating the desert landscape, it's a magical event that you won't want to miss. But how do you get there affordably, especially when traveling with a group? We've got you covered with some cost-effective transportation options. Explore the Southwest's wonders without breaking the bank. Book your Phoenix Charter Bus Rentals for Las Noches de las Luminarias with Divine Charter!
Charter Buses: The Budget-Friendly Group Travel Solution
Traveling with a group to Las Noches de las Luminarias? Our Phoenix bus rentals are your ideal budget-friendly transportation choice. Here's why:
Convenience: Group Travel with Divine Charter Bus Rentals Phoenix
Whether you're traveling with family, friends, or a large group, Divine Charter bus rentals Phoenix can accommodate your entire party comfortably. With various buses available, you can choose the one that fits your group's size and needs perfectly. Rent multiple buses for the day or for groups traveling a longer distance, we can accommodate multiple-day trips to get you to and from Las Noches de las Luminarias in Phoenix, AZ!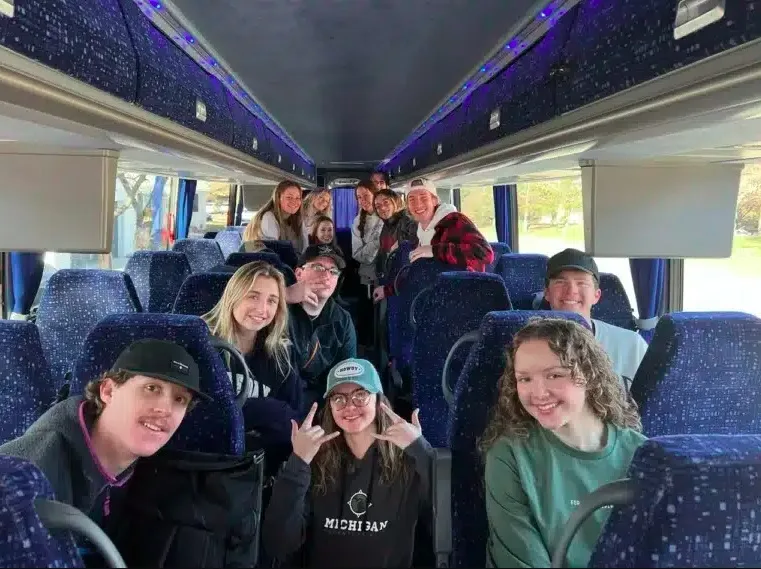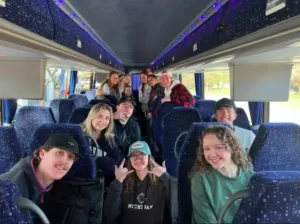 Cost Savings for Group Travel in Phoenix
Chartering a bus can be incredibly cost-effective, especially when you split the cost among all your passengers. It often turns out to be more affordable than everyone driving separately or booking individual tickets to get to town. Book a Charter Bus to pick up you and your group to enjoy the magic of Las Noches de las Luminarias this year!
Eco-Friendly Option for Group Travel in Phoenix
Our charter buses are an eco-friendly way to travel. By sharing one single vehicle, you reduce the carbon footprint per person, contributing to a greener, more sustainable ride.
Stress-Free Travel
Divine Charter Bus Company in Phoenix are the experts in group travel! With 60+ years and over 10K trips, we are the preferred bus rental company in the southwest. We handle all the logistics, from planning the route to pick-up and drop-off times. You can relax and enjoy the ride without worrying about driving, parking, or navigating unfamiliar roads.
Charter Bus Safety and Reliability
Reputable charter bus companies prioritize safety and reliability. At Divine Charter we maintain our vehicles meticulously, and our drivers are experienced professionals, ensuring a secure and comfortable trip. Read the reviews about our drivers on Google
Affordable Bus Rentals Phoenix
If you're searching for budget-friendly charter buses near Las Noches de las Luminarias, consider DIvine Charter Bus Rentals in Phoenix! Our service provides access to a wide network of charter bus providers, helping you find the most affordable options for your group's trip in and around Phoenix, AZ.
Bus Rentals for All Occasions in Phoenix 
Charter bus rentals are a versatile solution for various group travel needs in and around Phoenix!
When you need to transport a large group to a corporate event or conference, Divine Charter is a cost-effective and efficient choice. Learn more about corporate bus rentals here
Divine Charter buses are the preferred mode of transportation for school field trips in Phoenix. Our Phoenix bus rentals are safe, and economical. We provide a cohesive travel experience for students. Learn more about our Phoenix Bus Rentals for School Trips in Phoenix
 Planning to cheer on your favorite sports team at an away game? Charter buses can get you there so you can focus on the game, have a good time and leave the driving to us! Book your Pheonix athletics bus rental now
Bringing the family together for a reunion in Phoenix? Divine Charter buses simplify the logistics of coordinating travel for a large group, making your reunion stress-free. Book your family reunion bus rental Phoenix today!
Book Your Phoenix Bus Rental Today and Enjoy Your Trip!
Las Noches de las Luminarias is a breathtaking experience and getting there with a group doesn't have to break the bank. Charter buses offer an affordable, convenient, and eco-friendly mode of transportation, allowing you to focus on the magic of the event rather than the travel logistics.