6

Feb, 2023
Planning a rocking casino night with your friends? Looking to hire a private bus rental in Phoenix AZ? There are a few things to consider when looking for charter bus rental services.
Safety
Safety should always be your top priority when looking for a charter bus rental in Phoenix AZ. Make sure the company you choose has a good safety record, and that their buses are well-maintained and equipped with the latest safety features.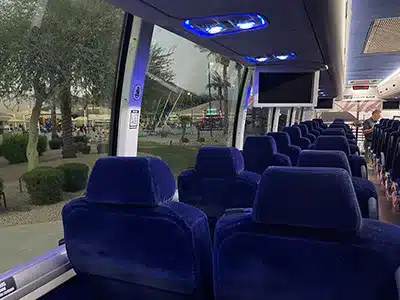 Capacity
Consider how many people will be attending your casino night, and choose a charter bus that can comfortably accommodate everyone. Make sure to also factor in any additional equipment or supplies that you will need to bring along.
Cost
Compare prices from multiple charter bus rental companies to ensure that you are getting the best deal. Keep in mind that the cheapest option may not always be the best, it's important to consider the other factors on this list as well.
Reputation
Do your research and read reviews from previous customers to get a sense of the company's reputation. A company with a good reputation is more likely to provide reliable and high-quality service.
Amenities
Consider what amenities you would like on your charter bus, such as Wi-Fi, charging outlets, or a restroom. Make sure the company you choose can provide the amenities you need.
Visit https://divinebuses.com/ to get in touch with Divine Charter. A reputed and reliable charter bus company in Phoenix, Arizona – Call now to get started (602) 932 8850.