8

Sep, 2023
Are you an educator or school administrator in Phoenix, AZ, looking to elevate the travel experience for your students during field trips, athletic events, or university outings? Look no further than Divine Charter, your trusted partner in charter bus rentals. Our Phoenix School Field Trip Bus Rentals services extend beyond mere transportation – we provide a safe, comfortable, and efficient journey that enhances the educational and recreational aspects of school travel.
Why Choose Divine Charter for School Field Trip Bus Rentals in Phoenix, AZ?
Divine Charter specializes in offering top-tier shuttle bus rentals in Phoenix, AZ, tailored to the unique needs of schools, universities, and K-12 institutions. Our fleet of modern and well-maintained vehicles ensures a smooth and secure travel experience, providing the perfect backdrop for educational adventures.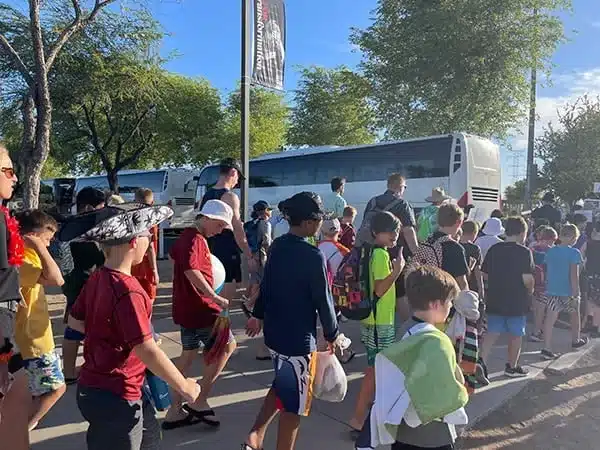 Seamless School Travel Experience
With Divine Charter, your students can travel in comfort and style, leaving behind the worries of logistics. Our shuttle bus rentals are designed to accommodate large groups, ensuring that everyone can travel together, and fostering a sense of unity among students.
Safety First
At Divine Charter, safety is paramount. Our bus rental service in Phoenix, AZ, adheres to the highest safety standards. Experienced and certified drivers, well-equipped vehicles, and rigorous maintenance protocols guarantee a worry-free trip for students and educators alike.
Tailored for Learning
Our shuttle buses are more than just a mode of transport; they are mobile learning environments. Students can engage in discussions, group activities, and educational games while on the move, making the journey an extension of the classroom.
Convenience Redefined
Hiring a shuttle bus in Phoenix, AZ, from Divine Charter eliminates the hassles of coordinating multiple vehicles, parking, and directions. With our professional drivers at the helm, teachers and chaperones can focus on their students and the experience rather than the logistics.
Elevate your next field trip or event with Divine Charter – where the journey becomes an unforgettable part of the adventure! Contact us today to book your shuttle bus rental in Phoenix, AZ. Call (800) 383-1430 or request a quote online here.